Online Safari Booking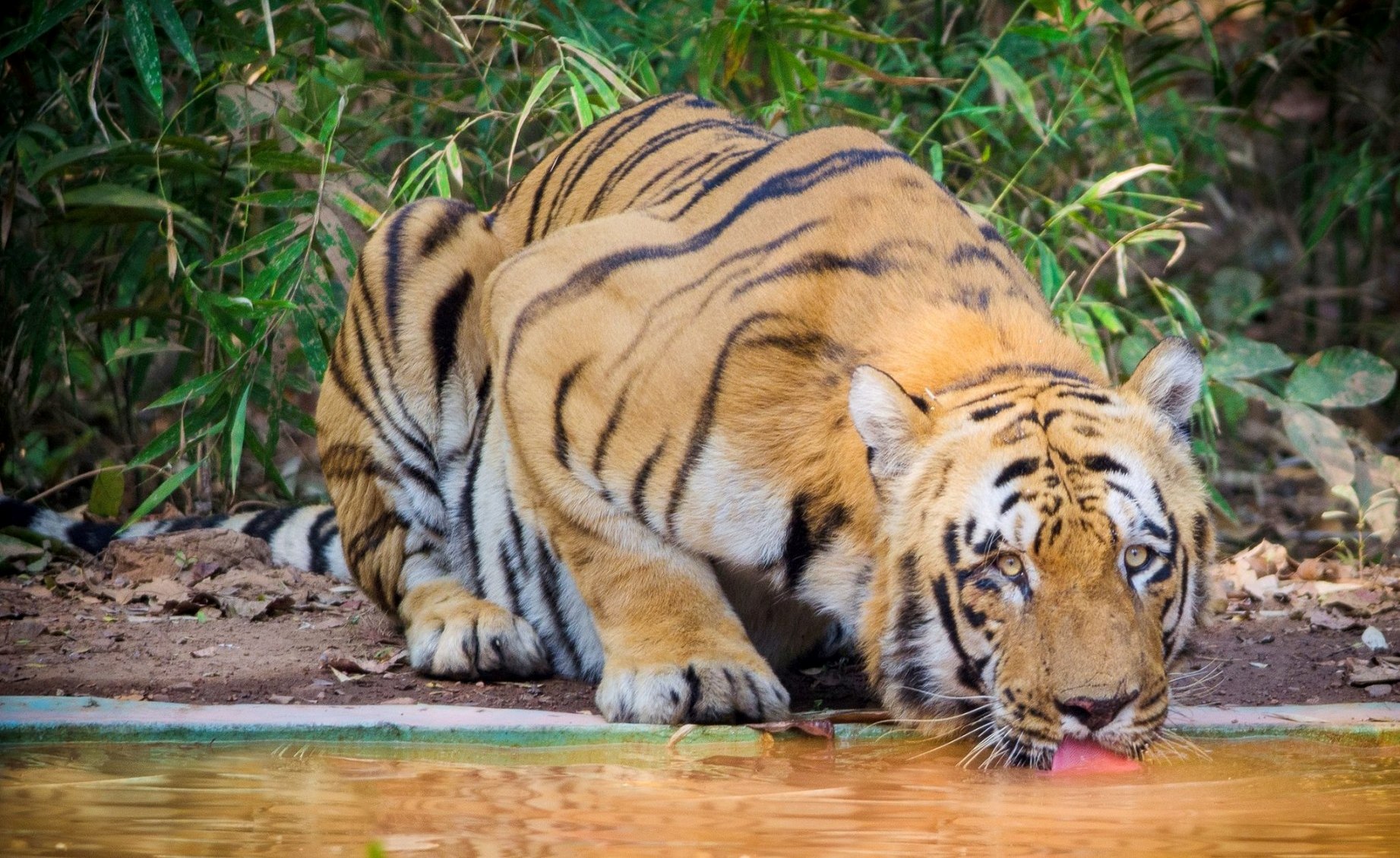 Jungle Safari – Pench National Park
Pench Jungle adventure will surely be incomplete without awe-inspiring
wildlife safari in Pench National Park. Sighting of animals and birds in their natural habitat is a memorable experience. The Tiger, king himself,awaits and beckons you at the glorious Pench Tiger Reserve.
Pench Safari Booking
When tourists think of Jungle safari in India, Pench is the destination that first strikes up in the mind. Anything can hardly come close to jungle safari tours when it is about peace and excitement at the exact exact time. Traveling through the jungles of Pench, experiencing and sightseeing its wildlife is the apex form of tourism compared to none.
Our history of more than 1000 safaris has modified us into a wildlife expert. Our safaris are designed in a way to leave a very little effect on the environment, wildlife or the locals.
Itineraries are sketched to provide maximum jungle experience. Our guides are experts and professionals in the field of wildlife tourism.
Enter the thick Pench forests and let the journey start. But hurry! Some of the characters from The Jungle Book have already paid our Tiger Resort a visit. That's thanks to the inviting araucaria and hibiscus, lush palms, the adjoining natural forest and of course, the small stream that accomplishes this picture perfect view. The natural charm of this renowned wildlife setting is well preserved and awaits your arrival.
So pack your binoculars, shorts and get geared up to be transported to an adventure of a lifetime! It's hard to describe what sort of adventures await you when you're out there in the wildlife. An open jeep will help you to explore deep into the forest to give you the real-life Jungle Book experience.
The biggest concentration of herbivores in India is found here in Pench. The animals to sight include the famous herds of Indian Bison, Chital (Spotted Deer), Sambar (antelope), Wild Dogs and sometimes even Flying Squirrels. Also watch out for Jungle Cats, Black Bears, and Jackals. The aficionado at the Pench Wildlife Safari have recorded a total of more than 350 different species of birds so keep an eye out for the Kingfishers, Herons, Parakeets and Dragons, Peacock amongst others. But the real excitement will begin only after you hear the first roar of the Majestic Tiger.
Langoors are common in Pench, whereas the Rhesus monkeys may be seen isolated on the fringes. Pench boasts of more than 210 species of birds that include innumerable migratory ones also. Generally seen are peafowl, Crimson Breasted Barbet, Red Jungle Fowl, Red Vented Bulbul, Crow Pheasant, Racket Tailed Drango, Magpie Robin and Lesser Whistling Teal.
Timings:
Morning Safari
5:30 am to 10:30 am.
Afternoon Safari
2:30 pm to 6:30 pm.
Night Safari
5:30 pm to 8:30 pm.
Night Safari – It transports you from one luxurious experience to different, adventure-filled, forest jaunt. Aficionados can enjoy and experience the forest in open jeeps.
Online Jungle Safari-
Pench National Park must be included in anyone's itinerary while
traveling to Central India since it is one of the best experiences nature has to offer.
Pench – Pench is perfectly assured to offer an experience that is both, unique as well as authentic with adventure. Our motive is to get to understand the wilderness better, to respect it, care for it and share it.
Exploring the jungle will surely bring out several surprises for both the nature lover and the adventurous explorer. But in our excitement to explore the natural environs, we need to remember that we have a responsibility to follow the rules of forest and to keep the environment clean.
Pench National Park is nestling in the lower southern reaches of the Satpura hills which are named after the Pench River. It is situated on the southern boundary of Madhya Pradesh, bordering Maharashtra, in the districts of Seoni and Chhindwara.
Online safari is available only in some entry gates of Pench, Madhya Pradesh, and Maharashtra. We offer guidance to our guests to book their online safari for Pench National Park.
Touria Zone – This is contemplated to be a premium zone. Pench forest is a part of Madhya Pradesh Pench. The park is wide open from October till June and is closed on Wednesday evenings. The Wildlife Museum which is related to flora and fauna is at the entry gate of Turia Gate. Pench booking is also available in advance. Entry to this gate is restricted so pre-booking is highly recommended.
The forest has various water bodies i.e. Malkundam, Baghinnala, Ber Van Talab, Bijamatta, Bhondewali Dobri & Mahadeo Ghat on the banks of Pench River. Tigers of Pench are known by the names according to the territory they belong to. Queen of Pench, Collarwali, settles in this zone and have been nominated to the "Guinness Book" of world records.
We are Just 1.5 Km from 'Turia Gate' and 9 Km from 'Khursapar Gate'. Both these gates are famous entry points to the forest due to the high probability of tiger sighting.
Karmazhiri – This is also considered to be a premium entry gate and shares a partial area of Turia gate, and also the water bodies Bodanala, Sitaghat on the banks of Pench river, JhandiMatta. The Pench national park is open from October till June and is closed on Wednesday evenings. Karmajhiri online Jungle safari is also available in Pench.
Wolf sanctuary – The distance of the entry gate is 1.2 Km from the resort in Pench. This is a rocky forest and is well-known for Wolves, Blue bull and leopards. Night safari is also allowed in this particular zone by the Government. The park is open throughout the year. There are two water bodies, where nocturnal species can be sighted. Morning and evening safaris are permitted in this zone. For this entry gates, there is no specific provision for an online safari in Pench Tiger Reserve.
Khursapar – This zone is located under the Maharashtra side of Pench forest. Distance from one of the best luxury resort in Pench is 9 Km. Three beautiful water bodies reside in the forest, which attracts a lot of bird life as well as wildlife. Forest is shut every Tuesday. Jungle safari can be booked in advance through online for this gate.
Sillari – The forte of this forest is that the entries are open throughout the year and also in monsoon season. The park is closed every Wednesday and the forest consists of Garari, bamboo and teak trees. Sillari forest is a small part of Maharashtra Pench reserve. It is 35 Km away from Village MachaanPench. Online jungle safari is available for this gate.
Rukhad – This zone is called as Bison retreat which is 35 Km from Village Machaan Pench. The park is open from October till June. This is a very dense forest and is highly recommended for forest lovers. The tickets can be booked only at the window. No allocation of online park entry booking is available in Pench Tiger Reserve.
Jamtara – The park is open from October till June. The sighting of a Sloth bear is quite common in this area. This park comes in Chhindwara district of Madhya Pradesh. Online ticket booking for the park entry is available in Pench MP.
Teliya – This is a new zone which is just 5 Km from the resort. Wolves' movement is quite common in this zone. This zone is too close to the wolf sanctuary (Night Safari zone) and opens for morning & evening game Safaris. The entry tickets of the park are booked at the window itself.