PENCH NATIONAL PARK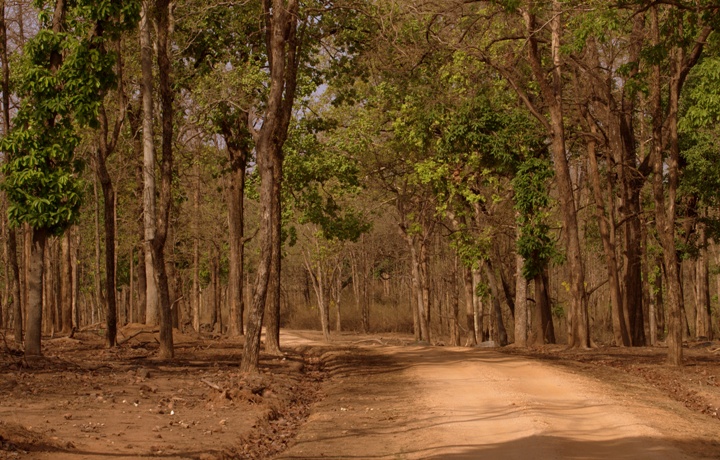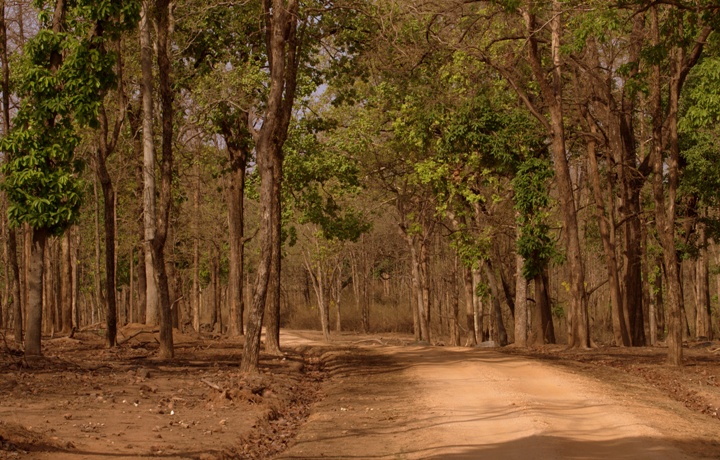 Pench National Park is located in Chhindwara and Seoni districts of Madhya Pradesh (India). The name is derived from the Pench River which flows through the National Park. The river flows from north to south that divides the park into two halves-eastern and western, the well woody areas of both districts.
Park History
Pench National Park was declared as a sanctuary in 1977, but in 1983, it evoked with the status of National Park. Later in the year 1992, it was stated as Pench Tiger Reserve, which covers 758 sq. km of area and the Pench National Park form the centre area of the reserve that covers 292.85 sq. km. The Mowgli's Pench Wildlife Sanctuary covers 118.30 sq. km of areas. A Buffer Zone is created by Reserve Forests, Revenue Land and Protected Forests which occupies 346.73 sq. km of area.
Pench National Park has a remarkable history. The representation of its magnificence and natural wealth occurs in Ain-i-Akbari (Constitution of Akbar), which was a 16th century document created by Abu'l-Fazl ibn Mubarak (the Emperor Akbar's vizier), recording the Akbar's administration realm. Pench has actually inspired Rudyard Kipling to write the popular novel 'The Jungle Book'. Above all, third part of special Tiger of BBC 'Spy in the Jungle' was also filmed in Pench National Park, which was based upon the growing up of four Tigers in Pench.
Wildlife in Park
Pench National Park is quite rich in fauna and it's an abode to a large number of vulnerable species. Tiger is the most dominant predator and there are around 25 of them in these prey-rich woodlands. There are some other predators like a hyena, wolf, dhol (Indian Wild Dog), jackal, leopard, and jungle cat. Some prey species spotted in the park are chital, sambhar, gaur, muntjac, wild boar, langur, and rhesus macaques. A herd of deers are amongst the commonly seen species over here.
There are more than 170 species of birds including various migratory ones like jungle fowl, crow pheasant, red-vented bulbul, peafowl, crimson-breasted barbet, lesser whistling teal, magpie robin, racket-tailed drongo, shoveler, egret, pintail, herons to name a few.
As per the survey, 125 tigers were found under the umbrella of the park along with 13 reptiles, 39 mammals, and 3 amphibians. Besides mammals and other land-based flora & fauna, the park is also rich in bird life. As per the assessment of the wildlife authorities, 210 species of birds were observed in this park like barbets, munias, bulbul, minivets orioles, waterfowls, mynas, wagtails and blue kingfishers.
Flora in Park
The park is consecrated with rich and verdant forests, spread throughout the area of the National Park. Southern dry broadleaf teak forests blend with the tropical mixed deciduous forests. The flora in Pench includes different kinds of climbers, shrubs, and trees. It has few uncommon varieties of herbs with medicinal properties which are mentioned below:
Teak (Tectona Grandis)
Saja (Terminalia Tomentosa)
Bija (Pterocarpus Marsupium)
Lendia (Lagerstroemia Parviflora)
Haldu (Adina Cardifolia)
Dhaora (Anogeissus Latifolia)
Salai (Boswellia Serrata)
Aonla (Emblica Officinalis)
Amaltas (Cassia Fistula)
In addition, bamboos are also there in several valleys and near to the water banks. The wilderness of the flora in this park is unified with old Teak and Bamboo plantations.
Safari Timings
The Safari timing in Pench National Park is mostly similar like other parks of the country. The entry and exit of the park differs as per the season. The best time to visit Pench National Park is from February to April. Due to the shortened duration of daylight in winters, the morning entry time is too late and evening exit time is early. The Pench National Park remains open for visitors from 16th October to the end of June and is closed during the rainy season (July-October) every year. Early morning safari is worthwhile to spot tigers and other rare animals.
Activities To Do In Park
Pench National Park is known for its wildlife and flora & fauna. There are several ways to explore the wildlife of forest. They are:
Jeep Safaris
Elephant Ride
Bird Watching
Jungle Walk
Walking Safaris (12 km)
Buffer Zones in Pench National Park
Turia Zone
The most exquisite zone in Pench National Park, the Turia gate is positioned just 1.5 kilometers away from Village Machaan Resort. The entry gate sits adjacent to a wildlife museum, which holds info of the different flora and fauna in the park.
Turia zone is open from October to June.
Karmajhiri Zone
Another popular entry gate of Pench National Park, Karmajhiri shares area of Turia zone, including water bodies like Sitaghat & Bodanala.
Karmajhiri zone is open from October to June. It is recommended to have advance bookings for entry through this gate.
Jamtara Zone
Jamtara zone is a charming expanse, well-known for sightings of Sloth Bears. It comes under the Chhindwara district of MP. You can get online bookings to the park from this zone.
Rukhad Zone
This zone is also known as the Bison retreat. The zone houses wonderful thick trees and is a wild whispering to nature lovers who throng here looking for beauty, break, and seclusion.
The zone carries different species of flowers and trees and is open to tourists from October to June. Online bookings are not available, which suggests tickets must be booked directly at the booking window.
Sillari Zone
Sillari zone welcomes entries all over the year but is closed on Wednesdays. The zone is packed with trees of Teak, Garari, and Bamboo. Online bookings are available.
Wolf Sanctuary
Wolf Sanctuary is popular for its rough, rocky terrain, and is home to Blue Bulls, Leopards & Wolves. Night Safari is permitted particularly for this zone, and various nocturnal species can be spotted here.
The park remains open for every season, however, no online bookings are available.
Tourist Attractions in Pench National Park
Sitaghat– This spot is a winding path which is nearby to the bank of river Pench, flecked with rocks and artistic looking trees. During the summer season, bushes and white flowers lope all along with bank. To view these flowers in complete blossom, it is obligatory to visit in the early morning hours. The place also appears to be a magnificent spot for wildlife sightseeing.
Alikatta– This place is another amazing attraction that has a fascinating area of grassland, where animals are also spotted. During evening hours, there is an excellent view of grazing herds comprising of thousands of spotted deer. One can also enjoy elephant rides that start from this place.
Chhindimatta Road– Journeying over rocky hills, it is known as a place of interest in the huge Pench reservoir. The rocky cliffs create tremendous places for leopards. Other species like Buzzards, Eagles, and hawks are observed looming over their nests.
Bodhanala Range– This area is worth sightseeing for tourists. It begins from a sloppy hill, bamboo forest to a huge pond near to the border of the park. It is a perfect area for predators.
Above all, there are few other attractions to explore in Pench like Raiyakassa, Doob Road, and Kalapahad. Traveling to all these places give a wonderful experience to come across huge herds and king of the jungle.
Tourist Places near Pench National Park
There are few main tourist attractions nearby Pench National Park, which adds up more fun and excitement in the trip. They are:
Bandhavgarh National Park– This park is 338.7 Km away (approx.7 hours) from Pench and it gives a wildlife retreat where nature and history intersect together. Positioned amidst the Vindhyan hills, the park has a series of ridgelines running through it. The main attractions of the area are however in the heart of the Park with its 32 beautiful wooded hills.
Kanha National Park– Just 2 hours drive (136.5 km) from Pench National Park, Kanha National Park is located. Situated in the district of Mandia (Madhya Pradesh), the park is a Tiger Reserve that usher over 1945 sq. km of undulating country. It is habitat to over 1000 species of flower plants. It has an important population of royal Bengal tiger, leopards, sloth bear, Indian wild dog, barasingha, etc.
Nagzira National Park– The wildlife of this park is sheltered in the arms of nature and wreathes with a picturesque landscape and exuberant vegetation. Only 3 hours drive (176.5 km) from Pench National Park, this park is situated in the Bhandara district of Maharashtra. The small reserve is an important corridor that connects central and southern forested areas such as Tadoba-Andhari and Kanha Tiger Reserves.
Tadoba National Park-Just 256.4 km away from Pench, Tadoba National Park is located in Chandrapur district of the north-eastern part of Maharashtra. Popular as 'The Jewel of Vidharba', this park is situated in the core of a reserved forest. The park is widely known for its plant's life and wildlife. It also has a tropical dry deciduous forest where teak is the dominant species.
Climate
Pench National Park is positioned at 21° 40′ 17.76″ North and 79° 18′ 11.88″ East. The Pench land is enclosed with tiny hills and well-stocked teak mixed forest in the southern part of Satpura Ranges. The park has a tropical continental climate with distinct winters (November-February), monsoons (July-September), and summers (April-June). The altitude variegates from 425 to 620 meters above mean sea level. The temperature of this region is 42°C in May & June 4°C in December. Average rainfall here is 1300 mm.
During summer, casual clothing of natural colors is perfect from March to May whereas from November to February, carrying warm apparels for chilly mornings and hazy evening is very necessary.
Things to Keep in Mind
– Visiting Pench National Park during monsoon season might turn out to be absolutely disastrous. Furthermore, parts of the park are shut post the month of June.
– Nagpur is the closest town to Pench National Park, and it is more comfortable to travel the park from there.
– Instead of evenings, pick the morning Safari. It boosts your chances to see more species of wildlife.
– It is recommended to avoid putting on deodorant or perfume, as it may terrify the animals.
– Cell phone reception in the jungle is tricky, so the internet connection may be weak.
– Elephant rides in Pench Tiger Reserve are more ideal if you wish to spot tigers.
– Choose to wear light, simple clothing rather than flashy, bright ones to make sure that you do not catch the wild animals' attention.
How to Reach
By Air- Nagpur Airport (88 Km) is the nearest one to reach the national park. Another option is Jabalpur Airport, which is 200 km far away from the park.
By Rail- The closest railway station is Nagpur (90 km), well connected to all the cities of India.
By Road- Nagpur is 88 km far from Pench through Seoni (NH No. 7).